about the artist
Ilse Winter was born on the 20ieth january 1919 in Neisse, Oberschlesien, former Germany. Ilse grew up in Gollnow, close to Neisse, in the post office, where her father was the postmaster.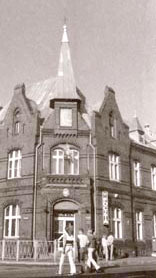 post office Gollnow, Poland

In 1944 within world war II, Ilse married. She and her husband the doctor Dr. Karl. F. Winter had to flee from the russians in the end of the war 1945. They stayed in differnet places in Bavaria. In 1947 Karl and Ilse finally arrived in Bad Kissingen, Bavaria, Germany. Karl founded a laboratory. They built a house and grew up 2 children. Karl died in 1999 in the age of 86. Ilse is still living and creating in Bad Kissingen.
influence
Ilse was influenced in the 1920ies inicially. Here idols in the beginning 1930ies were the artists who started absctract paintaing in the ending 19ieth century. Ilse Winter grew up in the country side. When she visited the grandparents as a young girl, her grandpa took here to museums in Berlin. The most impressive pictures in that time were from the "Blauer Reiter" group (the blue rider).
After world war II, when Germany was freed and when people where allowed to think and to express themselves again, Ilse started to create her first abstract paintings. Picasso was and is one of here favourite painters.
In the beginning 1950ies Ilse went to school again, to study fine arts. She wanted to learn everything about the handcraft. In her opinion a good artist should know his handcraft.
In 1954/55 at the Folkwang Schule in Essen,Germany, she met the teacher Werner Graeff , who was a Bauhaus artist. They became friends and Werner Graeff became a kind of mentor to her. His opinions and ideas influenced Ilse a lot. As Werner Graeff was an abstract painter, Ilse started to envent here own style of painting abstract pictures.
Werner Graeff influenced Ilse`s work a lot. But from beginning on, Ilse had her own style. The pictures and games she created for children, were constructed in the tradion of the great Wilhelm Busch, who envented the comic style paired with rimes.
The fairy tale box
quote from rasa-art: … At the end of 1975 Rainer moved to Spain and then returned to Germany where he had very close contact with Ilse Schmeidler-Winter, an established artist, and the grandmother of his children Jens Scharenberg and Marie-Isabel Scharenberg. He created and produced the "fairy tale box" and published posters and playing cards, painted by Ilse Schmeidler-Winter. 
summary
Ilse Schmeidler-Winter never wanted to specify in just one technique, just one material or just one direction of painting. Ilse all her life experimented a lot. She created aquarels, printed graphics, oil paintings, mosaics and a lot more. She used pencils, acryl colours, oil colours, casein colour and other kinds of colours.
As it is impossible to put Ilse into a drawler, one can only try to describe her way of thinking, the way she created art, and the motives which drove her to all these different pieces.
In the way Ilse thinks about life, her humor, the way she creates and the ideas she has, she is very close to the great Tomy Ungerer.
Only one thing is for sure. Children and cats always were most important to her.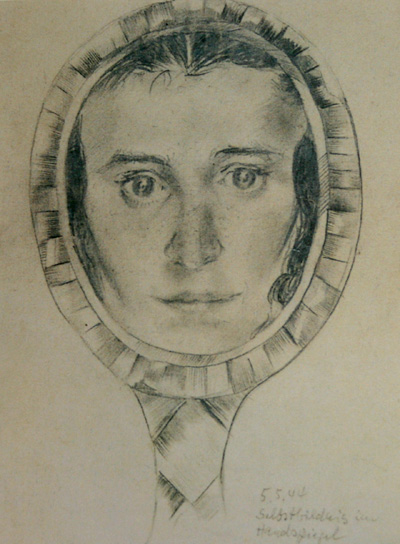 Self portrait, 1944